An all-inclusive solution
In contrast to many similar products on the market, DIAP is an all-inclusive solution integrating both hardware and software.
The DIAP IIoT gateway collects all types of data and is fully compatible with any PLC, sensor or industrial robot.
DIAP is the obvious choice if you wish to digitalize your production and work towards Industry 4.0. And it does not require you to make large investments or change your way of working completely.
One fits all
The aluminum-cased DIAP gateway is designed for industrial use and can be deployed in almost any type and size of production environment. It is fully operational in temperatures between 0 and +60 degrees Celcius.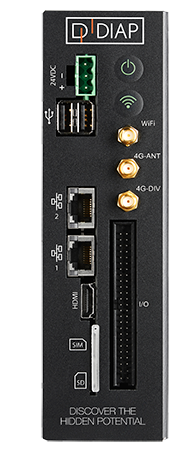 How does it work?
The DIAP gateway is easily installed in the electrical cabinet, and it is ready to collect data as soon as it is connected.
All you need to do, is to decide what type of data you wish to collect and from where you want to collect it – PLCs, sensors or robots.
DIAP communicates with your production equipment via I/O connectivity or Ethernet, and it is compatible with all common communication standards such as Profinet, OPC-UA, Modbus, CAN-bus etc.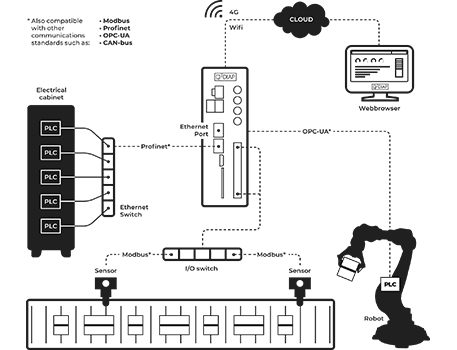 How to get started?
Connect DIAP
Install DIAP and connect it to PLCs, sensors and/or industrial robots
Collect data
Let DIAP collect your production data and send it to a secure cloud storage accessible only to you.
Analyze data
Analyze your data with one or more of the DIAP software applications - Real-time data, OEE or Predictive Maintenance.
Visualize data
Using a standard web browser, visualize your data by means of the DIAP dashboards.
Secure cloud storage
Your collected data is securely transferred from the DIAP gateway to a cloud database for safe storage. DIAP comes with a Microsoft Azure solution that includes unparalleled security intelligence. In this way, we guarantee maximum protection of your data.
Each DIAP user has a unique password. Access to the DIAP software is managed by one or more administrators selected by you.
We perform secure, regular updates of the software suite to protect against the latest threats.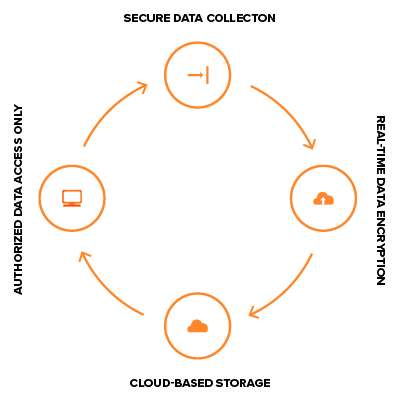 Please visit our website for more details and contact information: https://www.diap.online