Unpacking and inspecting
Carefully open the package and ensure that all items are included.
Inspect all items for damage. In case any of the included items have been damaged during transport, please contact your distributor to arrange a replacement. Repack all items and return the entire package to the distributor according to the agreement made.
All packing material must be disposed in accordance with local rules and guidelines.
Technical overview
Package content
Together with your DIAP, a number of additional items are included. The following content is included in the package:
DIAP Gateway
Breakout box
Power connector
1x Wi-Fi + 2x 4G antenna
Ethernet cable
Flat ribbon cable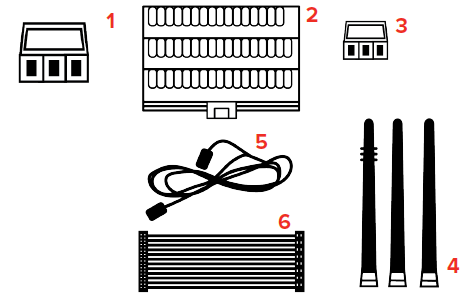 Front view of the DIAP

Indicators for power and internet
Connection of Wi-Fi, Bluetooth and 4G antennas
I/O connectivity
Power supply
USB
Ethernet (only Ethernet port 1 works as intended)
HDMI
SIM and SD card