Planning
Items and tools required for installation
The following items are required for installation but are not included in the DIAP package. Please make sure to have them available before starting installation.
The DIAP gateway is suitable for indoor installation only in accordance with protection class IP20.
Installation Guide
Installation
As a general rule, the DIAP is installed in the electrical cabinet.
Mounting the DIAP on a DIN rail
The gateway can be mounted on the following DIN rails:
DIN rail according to EN 60715 TH35-15
DIN rail according to EN 60715 TH35-7.5
The gateway should be installed vertically with the power connector at the top.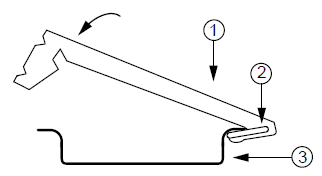 Step 1:
Clip the DIAP Gateway onto the DIN rail as shown in the figure to the left.
1. DIN rail clip
2. DIN rail spring
3. DIN rail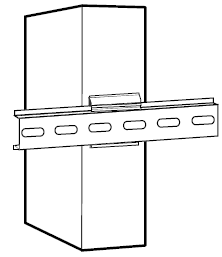 Step 2:
Wiring
Connect the DIAP gateway to a 24 VDC power supply remember to mount ferrite core with 3 windings off supply wiring through the center of the coil. The gateway turns on as soon as it is connected to a power supply.
The power connector is used as illustrated below: